New website coming soon!

If you have any questions you can contact our customer service team using the details below:
01507 529529 | emailqueries@mortons.co.uk
Thank you!
Steam Days Magazine – October 2020 – OUT NOW!
An 'American Express' from Southampton
An American's view of our steam locomotives, related by Tom Rayner, following his conversation with Harry Tizzard, an Eastleigh footplateman.
Middleton Railway: History makers
Sixty years since becoming the first standard gauge preserved railway to operate a public passenger train, Sheila Bye gives an overview of the colliery railway, concluding with its bi-centenary.
STEAM DAYS in Colour
190: The last years of the Robinson 'D11/1' 'Improved Directors'
Running out of work at their Lincoln and Cheshire Lines Committee homes, the transfer of the ex-Great Central Railway 'D11/1s' to South Yorkshire in 1957/58 brought about four busy summers of activity.
Polmadie's 'Royal Scots'
Boasting a long association with the 'Royal Scots' spanning August 1927 through to the end of December 1962, Andrew Wilson explains how five of these 4 6 0s proved to be particularly long serving at this Glasgow shed.
Branch lines to Fowey
Stanley C Jenkins MA provides a detailed history of the two branch lines to Fowey, the former broad gauge route from Lostwithiel and the Cornwall Minerals Railway standard gauge line from St Blazey.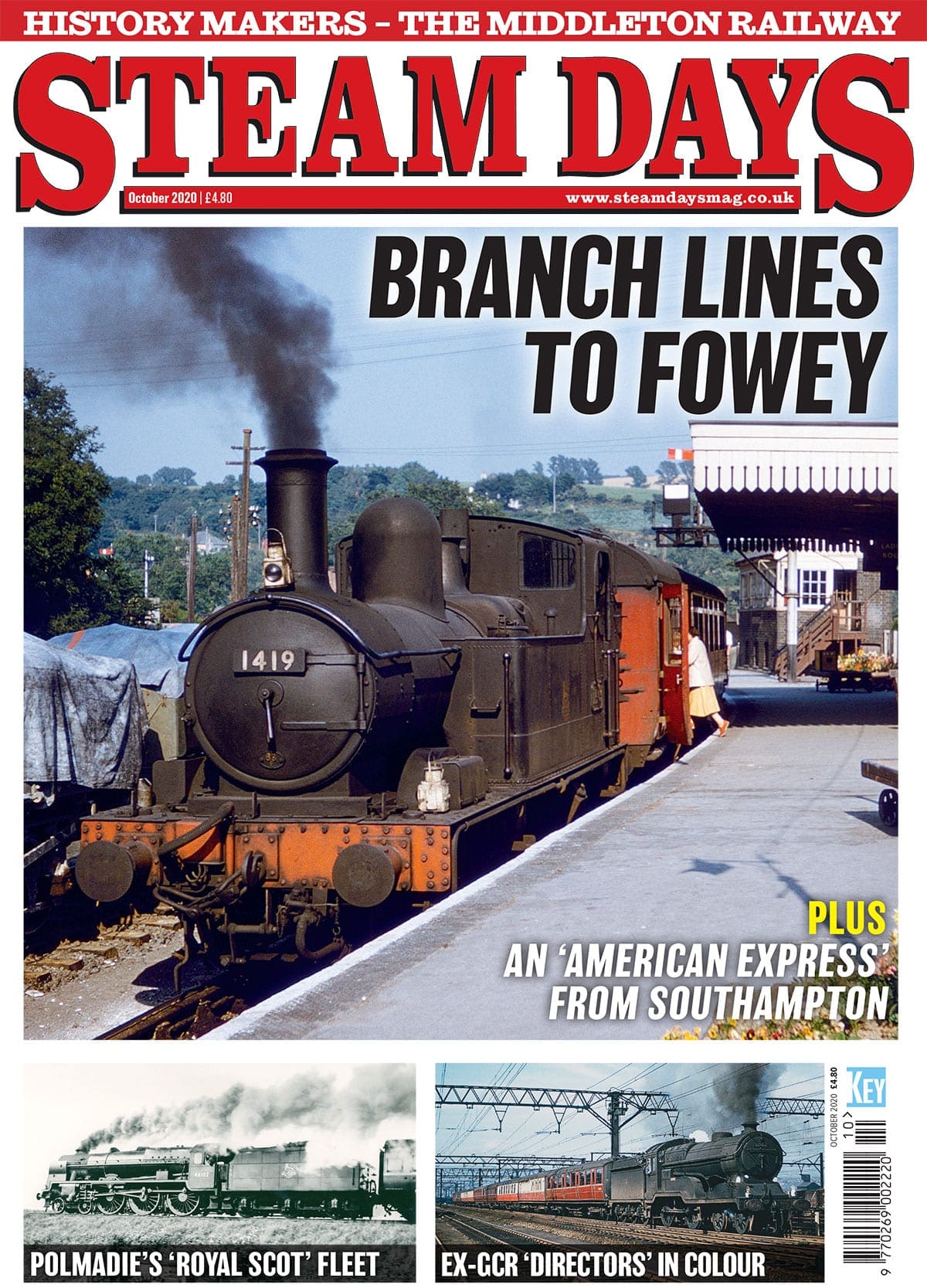 Steam nostalgia and railway history at its best. Steam Days is a monthly magazine dedicated to all steam railway enthusiasts. Each issue we cover the five regions of British Railways: Western, Southern, London, Midland, Eastern, and Scottish, with the occasional article on Irish railways and the industrial scene. These well illustrated articles in the magazine cover the history of the railways of Great Britain from the early days of the 1800s through to the end of steam on British Railways in August 1968.